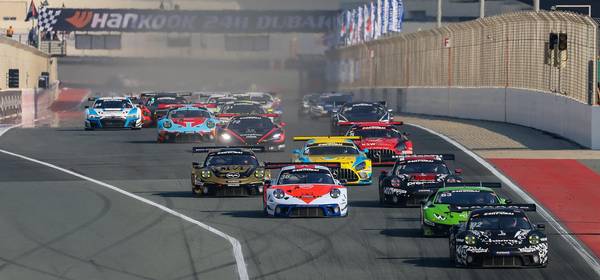 The GPX Racing team won the opening round of the 24H Series powered by Hankook. After 600 laps of racing at the iconic 24-hour race, Axcil Jefferies crossed the finish line in first place in the Porsche 911 GT3 R. In doing so, he claimed a second victory for Porsche, who also won the desert classic in 2017. This success also sees the GPX Racing team, which is based in Dubai, take an early lead in the GT class. The TCE category was won by Swiss team Topcar Sport, with Fabian Danz the final driver at the wheel of a Cupra TCR DSG. The race tyres supplied by long-term title sponsor Hankook performed as impressively as usual at the opening round of the international endurance season at Dubai Autodrome, demonstrating the high level of consistency and absolute reliability that teams and drivers have become accustomed to for the full 24 hours.
52 cars started the 16th staging of the endurance classic in the United Arab Emirates at 15:00 local time (12:00 CET) on Friday. Having qualified fourth, the GPX Racing team immediately gained positions at the start and, after intelligent pit stops and two Code 60 phases, moved to the head of the field. Once in the lead, the drivers in the Porsche 911 GT3 R (car number 36) – Axcil Jefferies from Zimbabwe and Frenchmen Frederic Fatien, Mathieu Jaminet, Julien Andlauer and Alain Ferté – never looked back. Belgian team WRT came home with a deficit of one lap to take second place with the #31 Audi R8 LMS GT3 Evo after 599 laps of Dubai Autodrome. Just 28.9 seconds later, HRT Bilstein from Germany crossed the finish line in the #4 Mercedes-AMG GT3 Evo to secure third place at the Hankook 24H Dubai.
In the TCE division, Swiss team Topcar Sport started the 24H Dubai powered by Hankook in seventh place. Sharing the driving duties in the #131 Cupra TCR DSG were the Swiss trio of Fabian Danz, Adrian Spescha, and Ronny Jost, together with Germans Patrick Sing and Benjamin Leuchter, and the quintet made consistent progress to eventually take victory in the TCE class after 543 laps. Next up for the 24H Series powered by Hankook is the Hankook 12H Mugello on 26th and 27th March 2021.
Thomas Baltes, Hankook race engineer: "A decisive factor in Dubai is which drivers cope best with the sand on the track and the subsequent low level of grip. The fact that the cars spend so much time sliding causes the temperature of the Hankook race tyre to rise and puts greater strain on the running surface. However, that in no way affected the performance of the Ventus Race. The Hankook race tyre also showed its full potential in the night, when it got cold. On the whole, it was an exciting race: the leading cars were within just two laps of each other, which is remarkable for a 24-hour race. The Hankook Ventus Race played its part in making that possible. We now head straight to Abu Dhabi for the Hankook 6H Abu Dhabi on 22nd and 23rd January."
Axcil Jefferies, GPX Racing: "We came into the race with a lot of confidence and pushed from the word go. That tactic really paid dividends: the pit stops were fantastic, the team did a perfect job and there were absolutely no issues with the Hankook race tyres. I am delighted with this great success for the team at such a prestigious 24-hour race."
Mathieu Jaminet, GPX Racing: "We had a perfect race. We had an aggressive strategy, which allowed us to put pressure on from the start and take the lead. The car ran perfectly on the Hankook race tyres, which meant we were able to extend our lead in the night. The whole team did a great job and I am really happy to have won my first 24-hour race."
Fabian Danz, Topcar Sport: "I am super happy with our victory in the TCE class. We improved consistently as the race progressed. The car and Hankook race tyre worked very well throughout the whole race. That was the ideal start to the season for us here at Dubai Autodrome."