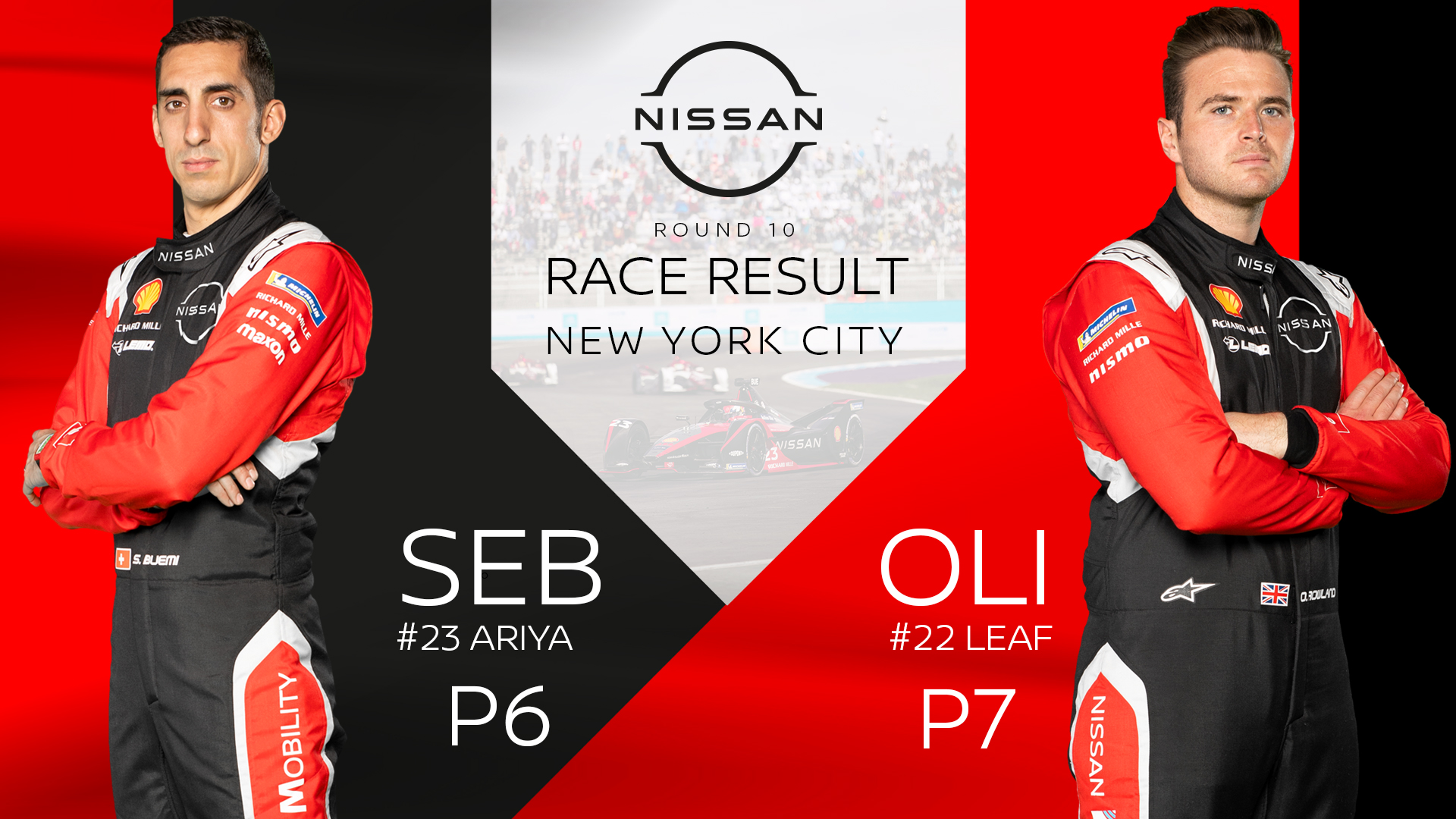 Nissan e.dams Take Double top 10 finish at Formula E New York City Race
Team moves up to P9 in closely fought team championship
Nissan e.dams took a double top 10 finish at the New York City E-Prix this weekend in round 10 of the ABB FIA Formula E World Championship, season seven. Racing once again on the Red Hook Circuit in Brooklyn, New York – the venue for Nissan's first Formula E race win, in season five – team drivers Sebastien Buemi and Oliver Rowland took P6 and P7 respectively in Saturday's close-fought first race of the weekend's double-header event, having qualified in P5 and P8. Buemi was fastest in group qualifying and ran as high as P3 in the race.
In Sunday's race, round 11, tricky dry-to-wet conditions in group qualifying saw Buemi qualify in P13 and Rowland in P16. Another exciting race saw Buemi running as high as P9 before rear contact dropped him down the order with damage and he crossed the line in P15. Rowland had contact at the start of the race which caused damage and hampered his pace. He finished in P19. Overall, the team took away 15 championship points from the event and moved up to P9.
"The race result today was affected by a poor qualifying performance due to rain arriving at the worst possible moment for us," said Tommaso Volpe, Nissan global motorsports director. "In the race we tried to recover and Seb was making up positions, but a collision from the rear took him out of the points. In Saturday's race we took some solid points and improved our position in the teams championship. Now we look forward to London and the chance to strengthen our race pace."
Nissan races in Formula E to bring the excitement and fun of zero-emission electric vehicles to a global audience. As part of its goal to achieve carbon neutrality across its operations and the life cycle of its products by 2050, Nissan intends to electrify all-new Nissan vehicle offerings by the early 2030s in key markets. Nissan aims to bring its expertise in transferring knowledge and technology between the racetrack and road for better electric vehicles for customers.
"Seb's P1 in Saturday's group qualifying shows us that the single lap pace is good with our new Nissan Gen2 Formula E powertrain, however we have work to do with our race pace," said Gregory Driot, co-team principal of Nissan e.dams. "We have just under two weeks until the next races, but we will double our efforts until then in the search for improvements."
The championship heads to London next for rounds 12 and 13 on July 24 and 25.
DRIVER QUOTES
Oliver Rowland
"This morning was a bit unlucky with the rain in qualifying, which meant I started 16th. I didn't really have the pace in the race, and I had some damage. Overall, it was just a bad race, really. Hopefully, we can come back better in my home race in London."
Sebastien Buemi
"A disappointing day today. I had a good start but then we struggled with the energy management. We need to look at all the data and understand where we went wrong, and then try hard to regroup for London. Yesterday was a better day, I had good pace in qualifying."