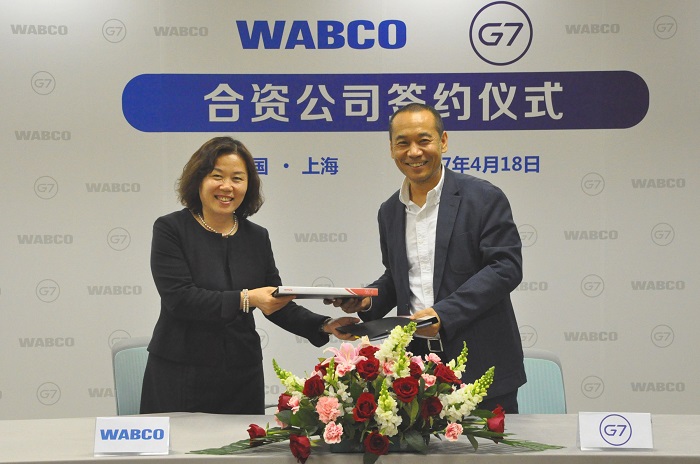 WABCO signs agreement with G7
WABCO is a leading global supplier of technologies and services that improve the safety, efficiency and connectivity of commercial vehicles. Privately-held G7 is an award-winning technology leader in China's fleet logistic industry with a base of over 400,000 connected vehicles. Each company will hold a 50% stake in the new joint venture.
WABCO is extending into China to further leverage its rich portfolio of fleet management systems (FMS). As a full systems supplier, WABCO can uniquely connect trucks, trailers, cargo, drivers, business partners and fleet operators in real time, resulting in actionable management insights, while measurably improving fleet safety, operating efficiency and asset utilization.

G7 provides 85% of China's largest logistics companies with real-time solutions that connect trucks, drivers, shippers and fleet managers. Through the G7 platform, businesses access their data metrics to gain full visibility into their transportation ecosystem. The cloud-based system handles order processing, asset tracking, dispatch/route planning, and fuel monitoring. G7's extensive nationwide support and installation network means that fleets are equipped onboard quickly and reliably.

The new joint venture will develop innovative Trailer FMS solutions for the Chinese fleet market, drawing on WABCO's leading capability in trailer telematics and trailer electronic braking system (TEBS) as well as G7's telematics expertise. These solutions will capture and process real-time vehicle-control systems data, including roll stability support (RSS), braking performance, cargo and route optimization, axle-loading, and vehicle tracking, among other safety and efficiency differentiators.

In addition, the joint venture's Trailer FMS solutions will link with WABCO's award-winning Intelligent Trailer Program, which monitors and controls more than 40 onboard functions such as OptiTire™ safety assistance, OptiLock™ high security and OptiFlow™ aerodynamic efficiency technologies. Fully customizable to individual fleet needs, WABCO's Intelligent Trailer Program is the industry's most comprehensive suite of options that helps fleets to reduce operational costs, save fuel, and increase the safety and comfort of drivers.

The joint venture will also further develop G7's Truck FMS solutions, leveraging WABCO's proprietary vehicle data, to set new standards for cargo transportation safety, efficiency and connectivity in the Chinese fleet market.