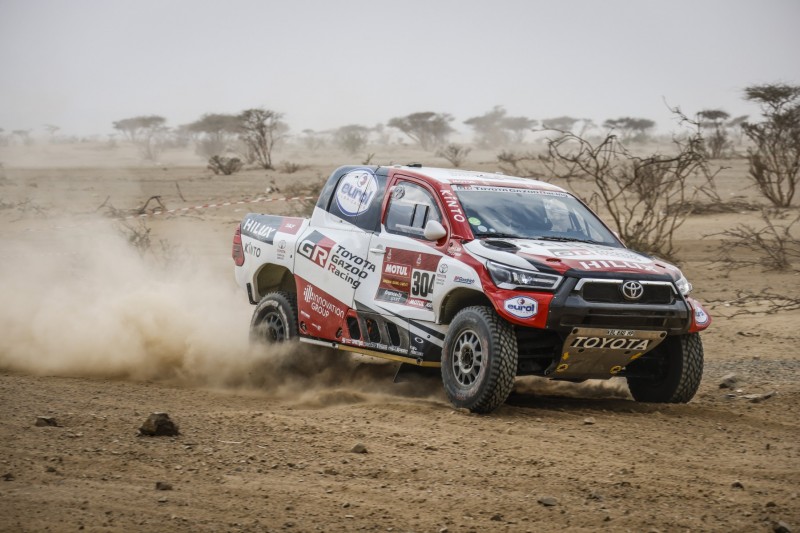 TOYOTA GAZOO Racing is looking forward to challenge for the Dakar Rally title again despite a truncated year which limited the team's training and testing as a result of the global pandemic. Nevertheless, in challenging circumstances, the team worked throughout the year, within the health and safety protocols to develop the new Hilux.
In a late decision, the team decided to take part in the Baja Ha'il double-header, the final rounds of the FIA World Cup for Cross-Country Bajas, with Nasser Al-Attiyah and Mathieu Baumel for an unconventional shakedown of the new Hilux. Nasser showed his determination to win the first round after a tough battle with Carlos Sainz, resulting in very close racing which saw the Hilux trade paint with the competition. Nasser narrowly missed out on victory in the second round due to a penalty that was levied post-race, and had to concede the World Cup title.
Despite only having raced in two international events before the 2021 Dakar Rally, the new Hilux has already proven its speed and reliability. The latest evolution of the Dakar-proven Hilux is a further development of the car that won the race in 2019, with refinements to many parts of the car. The suspension has been comprehensively re-tuned, while a new exhaust system has brought an improvement in the low-down torque curve of the naturally aspirated V8 engine from the Lexus RC F.
Due to the daily battle with tyre deflation throughout the 2020 edition of the Dakar Rally, TOYOTA GAZOO Racing has worked with Toyota Motor Corporation and GAZOO Racing Company to adapt a new tyre pressure monitoring system from the recently launched GR Yaris for the Hilux. This is an unusual role reversal where road car tech is being transferred back to rally cars, but is then expected to be tested to the limits in the white heat of competition. TGR Dakar Team also worked with partners at Motul to adapt the electronics and programming to ensure the new monitoring system works well with the Hilux.