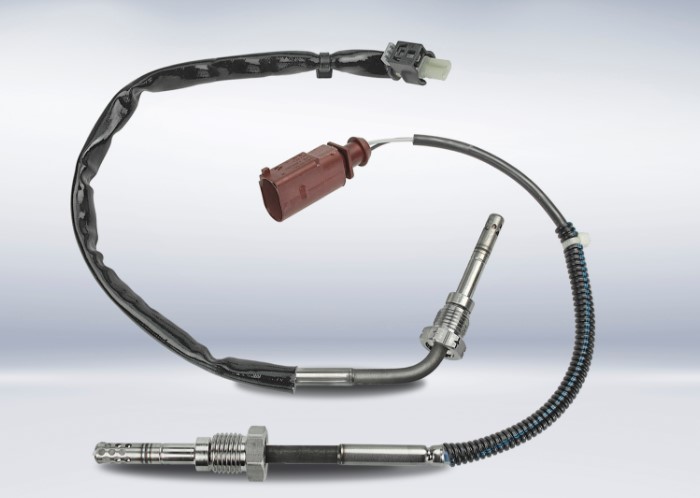 No-hassle general inspection: New MEYLE-ORIGINAL exhaust temperature sensors/HTS
State-of-the-art vehicle electronics is becoming increasingly complex. As can be seen during general inspection: Inspection agencies including TÜV, DEKRA and GTÜ evaluate all relevant vehicle systems to the latest technical standards. A failure of even the smallest electronic component, such as a sensor, can cause the vehicle to fail general inspection. Functional reliability of the exhaust temperature sensors has proved to be vital in this context. The sensors measure exhaust gas temperatures and feed the results to the engine timing unit. Failure of the sensors to provide correct readings can result in suboptimal fuel/air mixtures being injected in the combustion chamber, which in turn will push up fuel consumption and exhaust emission levels. Excessive temperatures may also damage turbo charged engines and catalytic converters. Precise temperature settings in the entire drive train are also essential for active regeneration of the particle filters. Particle filters which are not cleaned correctly or too late can cause early system failure.
MEYLE‑ORIGINAL exhaust temperature sensors: Precise, reliable, fast
"Exhaust temperature sensors, also known as high-temperature sensors, have to withstand extreme operating conditions. Providing precise, reliable measurements at very high speed is critical for maximum combustion process efficiency. Which is why you should never compromise on the quality of these parts", recommends Sven Nielsen, Head of Strategic Product Development at MEYLE. "At MEYLE, we have therefore launched a special programme dedicated to meeting these requirements 100 per cent."
Joining forces with customers, the MEYLE engineers have designed the new range of sensors to OE specifications. Thanks to the large number of intake openings, the MEYLE‑ORIGINAL exhaust temperature sensors (HTS) ensure precise temperature readings and swift data processing. The high-temperature sensor has an operating range between -40°C and +1,200°C. The generously dimensioned heat protection hose with interior coating ensures maximum insulation and protection against thermal and mechanical overload. The result: optimised temperature control leading to reduced pollutant emission and improved fuel efficiency.
MEYLE-ORIGINAL – true to OE.
All MEYLE parts are designed with the needs of the spare parts market in mind. The comprehensive range of quality-tested MEYLE-ORIGINAL products offers maximum robustness and durability. The product line includes 20,000 spare parts for passenger cars, vans and commercial vehicles.