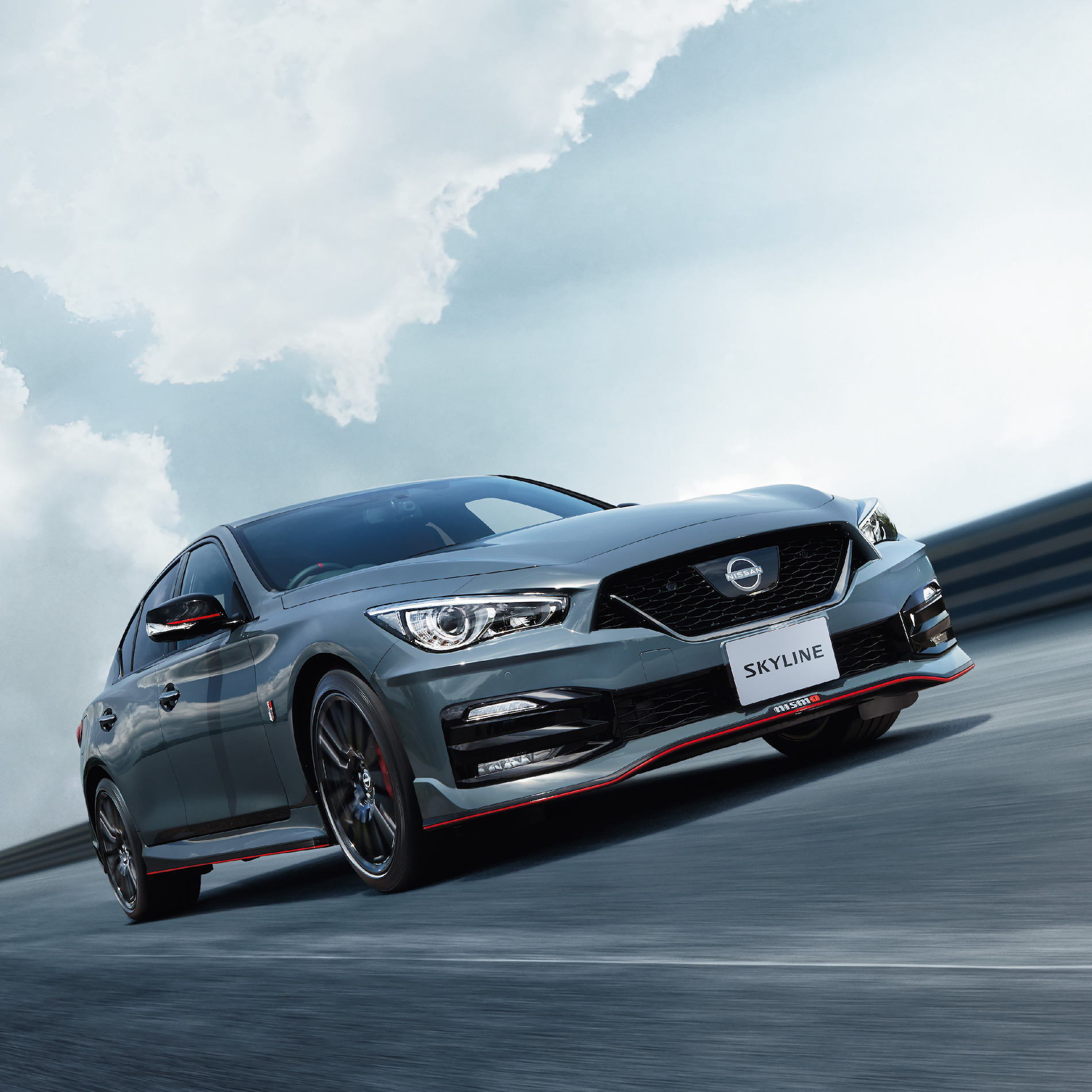 Nissan to launch Skyline NISMO models for the Japan market
Nissan Motor Co., Ltd. today announces the launches of the Skyline NISMO and the Skyline NISMO Limited for the Japan market. Production of the Skyline NISMO — the pinnacle of the Skyline GT marque — is limited to 1,000 units and the launch will take place in early September. Only 100 Skyline NISMO Limited vehicles will be built, with a launch date planned for next summer.
Nissan to launch Skyline NISMO models for the Japan market
The Skyline NISMO sports sedan continues Nissan's tradition of integrating technology developed through motorsports into production vehicles.
The Skyline has borne the GT badge — indicating its grand touring prowess — since the second-generation S5 series. The Skyline NISMO has been developed by combining the qualities of its GT predecessors with aerodynamic and chassis technologies that leverage NISMO's unique racing technology. The aim, of course, is to produce a car that's even faster, more comfortable and safer than its illustrious predecessors.
With its low, wide stance and potent NISMO engine, the Skyline NISMO has the looks and performance of an elite sports sedan. It features the GT badge on its front fender and a NISMO metal emblem on its center console that's engraved with a serial number testifying to the limited production run.
The Skyline NISMO's main features include:
An engine exclusively tuned by the same engineers involved in the development of the GT500 racing class engine. Maximum output has been raised from 298 kW (405 ps) to 309 kW (420 ps), while maximum torque has been increased from 475 Nm to 550 Nm. The result is powerful yet tractable acceleration.
In standard mode, the engine produces smooth acceleration suitable for everyday use. In sport and sport+ modes — which utilize the NISMO-dedicated AT shift schedule — the engine operates at higher rpms, delivering a sharper response .
Specially developed performance tires provide an optimal balance between front and rear grip, with the width of the rear tires boosted by 20 mm to ensure the engine's high torque is effectively delivered to the road. In addition, NISMO-exclusive  Enkei 19-inch aluminum wheels have been fitted that are not only wider but also lighter and more rigid. The result is improved initial steering responsiveness and better ground contact that heighten cornering performance.