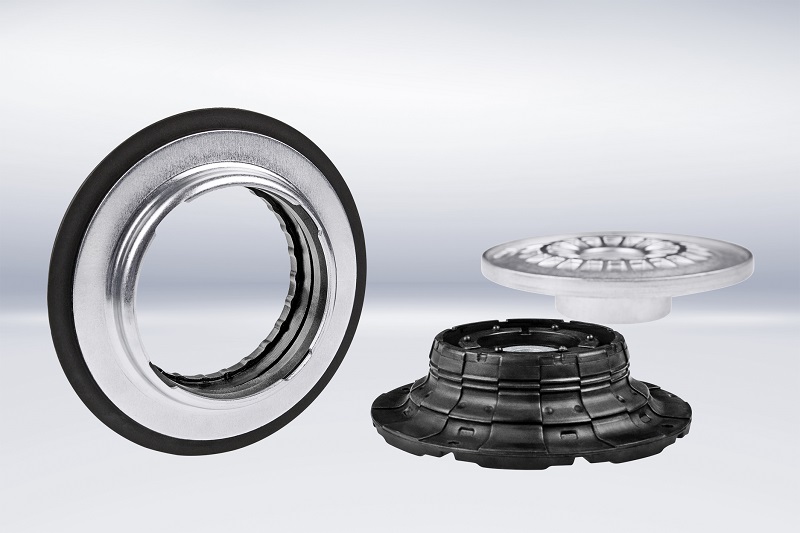 New MEYLE-HD strut mount kit fits both the VW T5 and T6 models
MEYLE is the first aftermarket supplier to offer this all-in-one repair kit complete with rolling bearing, forged spring plate and strut mount and fully compatible with both VW models. Whether T5 or T6 – thanks to targeted technical refinements, the new MEYLE-HD strut mount is guaranteed to last longer than its OE equivalent.
VW vans are cult models which have enjoyed unwaning popularity for generations. However, many of the vehicle's drive and suspension parts are exposed to particularly high stress during operation. Take for example the strut mounts: With a high centre of gravity typical of the T5 and T6 models, the strut mounts are put under considerable strain when cornering, driving off or braking, even when the vehicle is empty. Driving under a heavy load will substantially increase the forces acting on these parts – making  it almost inevitable that parts wear out prematurely.
Devising performance-enhancing design modifications, the MEYLE engineers have developed a pioneering MEYLE-HD strut mount offering a significantly longer service life over its OE counterpart. The larger number of balls in the rolling bearing provides for a more even load distribution. The spring plate is forged rather than cast, as it is with the OE part, which makes the MEYLE‑HD component more robust and less vulnerable to cracking. Relying on the advanced MEYLE design, repair professionals can confidently offer an extended four-year guarantee distinguishing not only MEYLE-HD strut mounts but all products of the MEYLE-HD range.
The MEYLE-HD strut mount kit is the first-ever full-service aftermarket product for the T6 repair. The kit components are specially chosen to offer full backward compatibility with the T5 model thereby delivering genuine customer value for all T5 drivers struggling with premature strut mount failure resulting from the insufficiently designed OE part. Retrofitting the T5 with the considerably more robust T6 strut mount helps avoid frequent costly repairs.
Complementing the new repair kit, MEYLE offers another 18 strut mount repair kits catering for the following makes and models: Audi, BMW, Citroen, Dacia, Fiat, Ford, Mazda, Mercedes, Nissan, Opel, Peugeot, Porsche, Renault, Saab, Seat, Skoda and Volvo. The new MEYLE‑HD strut mount kit catering for both the VW Transporter V (04/03-11/09) and VW Transporter VI (04/15-today) is, as of now, available under the following MEYLE part number: 100 641 1002/HD (MEYLE short number: MCX0561HD).