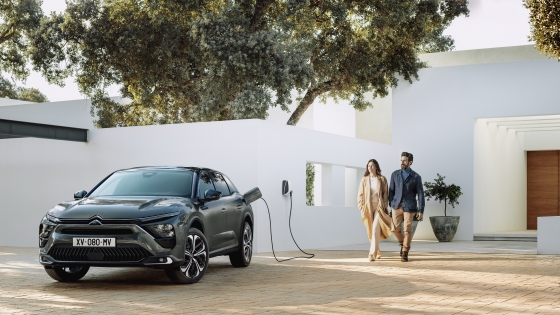 New Citroen C5 X: Prıce List Of Citroën's Grand Tourer In France
Citroën is going back to the large tourer segment with an innovative model that is a cross between a saloon, an estate and an SUV. With its elegant, dynamic body shape, C5 X breathes new life into the art of travelling with complete peace of mind.
NEW CITROEN C5 X: PRICE LIST OF CITROËN'S GRAND TOURER IN FRANCE

Citroën is going back to the large tourer segment with an innovative model that is a cross between a saloon, an estate and an SUV. With its elegant, dynamic body shape, C5 X breathes new life into the art of travelling with complete peace of mind.
C5 X is available in 6 exterior colours, all metallic or pearlescent, which highlight its body shape: Perla Nera Black, Pearl White, Steel Grey, Platinum Grey, Amazonite Grey, an elegant green grey which perfectly matches the Hype Adamantium and Magnetic Blue interior environment, a deep and bright saturated blue that is a nod to the colour of the 19_19 Concept. These bodywork colours can be combined with a Perla Nera Black roof, further reinforcing the vehicle's elegance.
C5 X is also available with 3 different wheel rims: 17″ VorteX alloy wheel rims, 19″ AeroX alloy wheel rims and 19" AeroX Black Diamond alloy wheel rims. The 19″ alloy wheel rims have glossy black aerodynamic inserts that create a turbine effect to guide the airflow, minimising aerodynamic drag and so reducing CO2 emissions.
In keeping with Citroën's interior customisation philosophy, C5 X offers original interior environments so the driver can fashion the passenger compartment in their own image. The various elements that can be customised to reflect these ambiances include the seats, the fascia panel and the dashboard trim, as well as the centre console and the door panels. These ambiances use noble materials, harmoniously assembled.
C5 X Offers 6 Different Ambiances:
The standard ambiance features a chevron-effect grey fabric.
The Urban Grey ambiance, understated and elegant, features a timeless grey with a grey fabric and black leather-effect fabric mix, together with a black dashboard strip and metal-look dashboard trim.
The Metropolitan ambiance comes in Metropolitan Grey and Metropolitan Blue, combining black leather, grey or blue leather effect at the top of the seat back, the black dashboard strip and the dashboard trim with a brushed metal appearance.
The Hype Black ambiance is a timeless, dynamic essential in the automotive world: smooth, perforated black leather in the form of chevron outlines, black dashboard strip and chevron-patterned geometric effect wooden dashboard trim.
The Hype Adamantium ambiance is more focused on originality and clarity on board: a two-tone style with smooth perforated black leather creating chevron outlines, combined with smooth warm grey leather and a hot grey dashboard strip, as well as a strip at the top of the light wood finish back, in keeping with the wooden dashboard trim featuring a geometric chevron effect.
On-Board Peace Of Mınd Thanks To The Ultımate Comfort Of The Citroën Advanced Comfort Programme
The C5 X features the very best of the Citroën Advanced Comfort® programme:
Advanced Comfort seats provide a soft initial contact thanks to foam with a padded surface: dynamic comfort thanks to a high-density layer and thick structured foam, and postural comfort thanks to multiple electrical adjustments.
The Citroën Advanced Comfort® Suspension system, with Progressive Hydraulic Cushions®, is available on vehicles with internal combustion engines and – a world first – the Active Citroën Advanced Comfort® Suspension system is available with the rechargeable hybrid version. With this controlled system, the vehicle can adapt each wheel's suspension, making it softer or firmer depending on the conditions encountered. This is made possible with a range of sensors and ECUs which continually determine the correct configuration for the suspension.
C5 X has best-in-class spaciousness for its category. The passenger compartment is designed with simple surfaces and floating elements that enhance the impression of space. Passengers in the back have generous knee room, a great deal of width and good head room, so they are comfortably seated and can enjoy their journey
The brightness inside the passenger compartment contributes to the well-being that people experience inside C5 X. The brightness is generous thanks to windows all around the car – this includes the quarter panel windows and the large panoramic sunroof.
Special attention has been paid to on-board acoustics, giving C5 X passengers complete peace of mind. The acoustic windows which feature as part of the front and rear doors provide outstanding insulation against outside noises during the journey.
ë-Comfort means being able to drive in electric mode on everyday journeys with zero noise and zero CO2 emissions in 100% electric mode, at speeds of up to 135 km/h ; zero vibration, zero jolts, zero gear changes for perfectly smooth driving; zero stress, thanks to easy charging and automatic driving mode management; zero compromises when it comes to space and modularity in the Hybrid PHEV version.
Technology For On-Board Well-Beıng And Peace Of Mind
C5 X features the best technology, providing both driver and passengers with a relaxing and safe journey :
The Extended Head Up Display shows a range of useful information on the equivalent of a 21″ screen, at 4 m in the driver's field of vision. The main information displayed is speed, road signs (including speed limits), driving assistance settings, navigation instructions, warning messages and the audio system
MyCitroën Drive Plus, a brand new interface with natural voice recognition so that drivers can interact naturally with their vehicle. With a 12″ HD touch screen, 4 USB-C sockets and wireless smartphone charging, MyCitroën Drive Plus updates in real time via the Cloud and features Mirror Screen without your having to plug in your smartphone.
Driver Assistance systems that introduce semi-autonomous level 2 driving, including Highway Driver Assist and Lane Change Assist, traffic monitoring at the rear of the vehicle during reversing manoeuvres (Rear Cross Traffic Alert), blind spot monitoring and 360° visibility around the car.
A Simple Range, Meeting The Needs Of Both Private Customers And Businesses
C5 X is available in 4 versions for private individuals in Europe:
Feel, an entry-level vehicle that includes all the main comfort and safety features, including the Citroën Advanced Comfort® suspension, dual-zone automatic air-conditioning, the Safety Pack and the Visibility Pack.
Feel Pack, a mid-range vehicle that offers even more comfort with MyCitroën Drive Plus, Proximity hands-free access and start-up, front park assist, rear view camera, and even more style with 19″ Aero X alloy wheels. With a hybrid engine, the Feel Pack Suspension Active Citroën Advanced Comfort®
Shine, the top-of-the-range version is equipped with the latest technology such as Extended Head Up Display, Highway Driver Assist and an even more attractive interior with Metropolitan ambiances and a leather steering wheel.
Shine Pack adds even more comfort to the range, including a hands-free tailgate, driver and passenger electric seats with memory feature (8-way and 6-way, respectively), acoustic and laminated front and rear windows, and a Hype Black interior ambiance in Black leather and Adamantium with Chevron perforations.
C5 X also has a version for business customers – Feel Business, which adds B2B comfort elements to the Feel version, such as front parking assistance, MyCitroën Drive Plus, wireless smartphone charging and lumbar adjustment.
Effıcient, High-Performance Engines
C5 X comes with three engine types: Petrol and Rechargeable hybrid, all with automatic gearboxes:
PureTech 130 S&S EAT8,
PureTech 180 S&S EAT8 (not available on Feel Business)
Hybrid 225 ë-EAT8, the rechargeable hybrid version, combining the PureTech 180 S&S petrol engine, an 81.2 KW electric engine, ë-EAT8 automatic gearbox and a 12.4 kWh Lithium-Ion battery (not available on Feel level).
Soon available to order in France, New C5 X (petrol or rechargeable hybrid) will arrive in the brand's points of sale in late 2022.