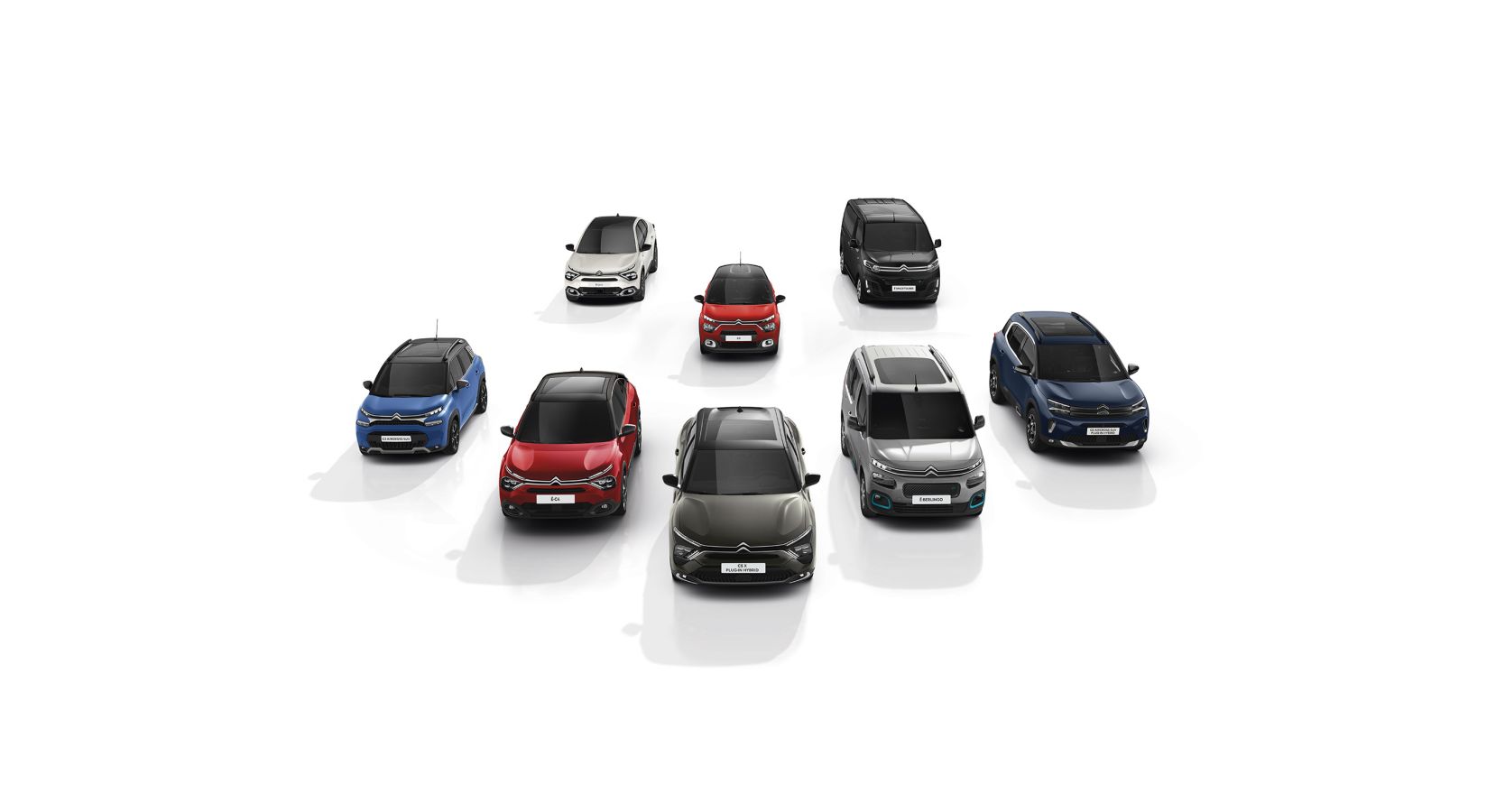 CITROËN REDEFINES ITS RANGE FOR AN EASIER PURCHASING PROCESS AND BETTER CUSTOMER EXPERIENCE
Citroën unveils a significant redefinition of the construction of its vehicle range, with three trim levels per model, each offering a maximum of five option packs per trim level. Everything is now centred around three trim levels, called YOU, PLUS and MAX, replacing the existing Live, Feel, Feel Pack, Shine and Shine Pack versions.
CITROËN REDEFINES ITS RANGE FOR AN EASIER PURCHASING PROCESS AND BETTER CUSTOMER EXPERIENCE
This overhaul, which comes into effect on the 1st September is in response to expectations from customers and the sales network to make the offers clearer and more legible. By providing a better understanding of the range upgrades and the various options available, Citroën makes the customer purchasing process easier and enhances the clients' trust. By offering appropriate trim levels and well-defined option packages, the Brand provides solutions tailored to their needs and lifestyles.
This desire for simplification, based on a narrowed range, will also encourage competitive prices and improved delivery times thanks to the reduction in diversity, which generates greater complexity. This approach is fully in line with new consumer habits, particularly with the rise of a more compact digital world and Citroën's desire to move towards a fairer and more balanced pricing policy across all regions. On this occasion, the Brand launches a "fair price" policy pilot programme in Belgium, Austria, Luxembourg, the Netherlands, UK and Germany, with a net price for the whole of the market concerned, in order to achieve greater pricing clarity and ensure that the price paid is the same regardless of the distribution channel.
A SIMPLIFIED RANGE, CALIBRATED TO JUST WHAT IS NEEDED
The five existing versions – Live, Feel, Feel Pack, Shine and Shine Pack – are now YOU, PLUS and MAX. This redefinition has resulted in a more concise range, making it easier for customers to understand the various range upgrades and options available, without impoverishing the content proposed.
The offers are designed to meet customers' needs, with trim levels adapted to their preferences and lifestyles. The range is refocused on its core market, offering the right level of equipment for each price level.
Without going into the details of each model, a common thread running through all of them is the notion of style and comfort, true hallmarks of Citroën. For C4 and C4 X, for example, the first YOU trim level provides direct access to the world of Citroën comfort, with standard equipment such as progressive hydraulic cushion suspensions, a good level of connectivity with a 10" touch screen combined with wireless smartphone replication and expected driving aids such as rear parking sensors. The PLUS trim level amplifies the Citroën experience with Citroën Advanced Comfort seats, a rear-view camera and 18" aluminium wheels. Finally, the upgrade offered by the MAX version adds equipment to make onboard life easier, with hands-free access and a connected navigation system, head-up display or even adaptive cruise control with the Stop & Go function. Style is not forgotten either with tinted rear windows or 18" diamond-cut alloy wheels.
A limited policy of option packs completes the offer to make it simpler, up to five option packs per version.  Body colour remains a choice independent of versions and option packs. Based on an analysis of orders and feedback, the pack approach was adopted to avoid customers having to find and then select from among the many available options the one that best suited their profile. For C4 and C4 X, there is a pack for technophiles with wireless charging, 360° vision for parking manoeuvres and level 2 autonomous driving assistance with Highway Driver Assist, as well as a pack containing features for customers living in regions with cold winters, including heated seats and steering wheel.
Meanwhile, limited editions will continue to be offered to liven up the range at the right time. In fact, that's exactly what the new Ë-SERIES collection will do in the very near future.
AN IMPROVED CUSTOMER EXPERIENCE
By revamping its product range, Citroën also affirms its desire to improve the purchasing experience for its customers, while reducing costs and delivery times.
The starting point is listening to what customers want through the distribution network but also with the help of a tool, Citroën Advisor, which enables customers to post comments and opinions on the brand's products, sales outlets and service offerings in a completely transparent way.