CITROËN ë-C4 and ë-C4 X ARE BOLSTERING THE PRODUCT OFFER WITH A NEW, MORE EFFICIENT ELECTRIC MOTOR WITH AN OPERATING RANGE UP TO 420 KM
Citroën is stepping up the pace and strengthening its position with the arrival of an additional offer on the ë-C4 and ë-C4 X ranges, boasting a more powerful engine and extended operating range, up to 420 km. With the adoption of a new motor and battery combination on these two models, Citroën is the only generalist brand to offer two complementary electric vehicles in the C segment.
CITROËN ë-C4 and ë-C4 X ARE BOLSTERING THE PRODUCT OFFER WITH A NEW, MORE EFFICIENT ELECTRIC MOTOR WITH AN OPERATING RANGE UP TO 420 KM
BOLSTERING THE C-SEGMENT OFFER
Citroën present a new electric offer for ë-C4 and ë-C4 X with a new high-performance powertrain that can achieve up to 420 km according to the WLTP cycle. This increase in range of almost 17% compared to the first generation is based on the combination of a new 54 kWh advanced-chemistry battery and a new more efficient and powerful motor developing 115 kW (136 hp). This gives the customer more versatility and convenience.
Initially available only on the Shine level, this new offer on ë-C4 and ë-C4 X complements the current electric range, which combines a 100 kW (136 bhp) motor with a 50 kW battery for a range of up to 360 km. The range thus benefits from a clearer range step up and progressive access to electric mobility.
These two complementary electric powertrains are at the heart of Citroën's electrification strategy, which aims to make the transition to electric vehicles easier and trouble-free. They share the same philosophy of a reasoned choice of battery size and a 100 kW rapid charging capacity, favouring a competitive price positioning while offering great versatility of use.
With this new electric vehicle, Citroën has strengthened its appeal in the C-segment saloon sector and is clearly positioning itself as a major player in the market.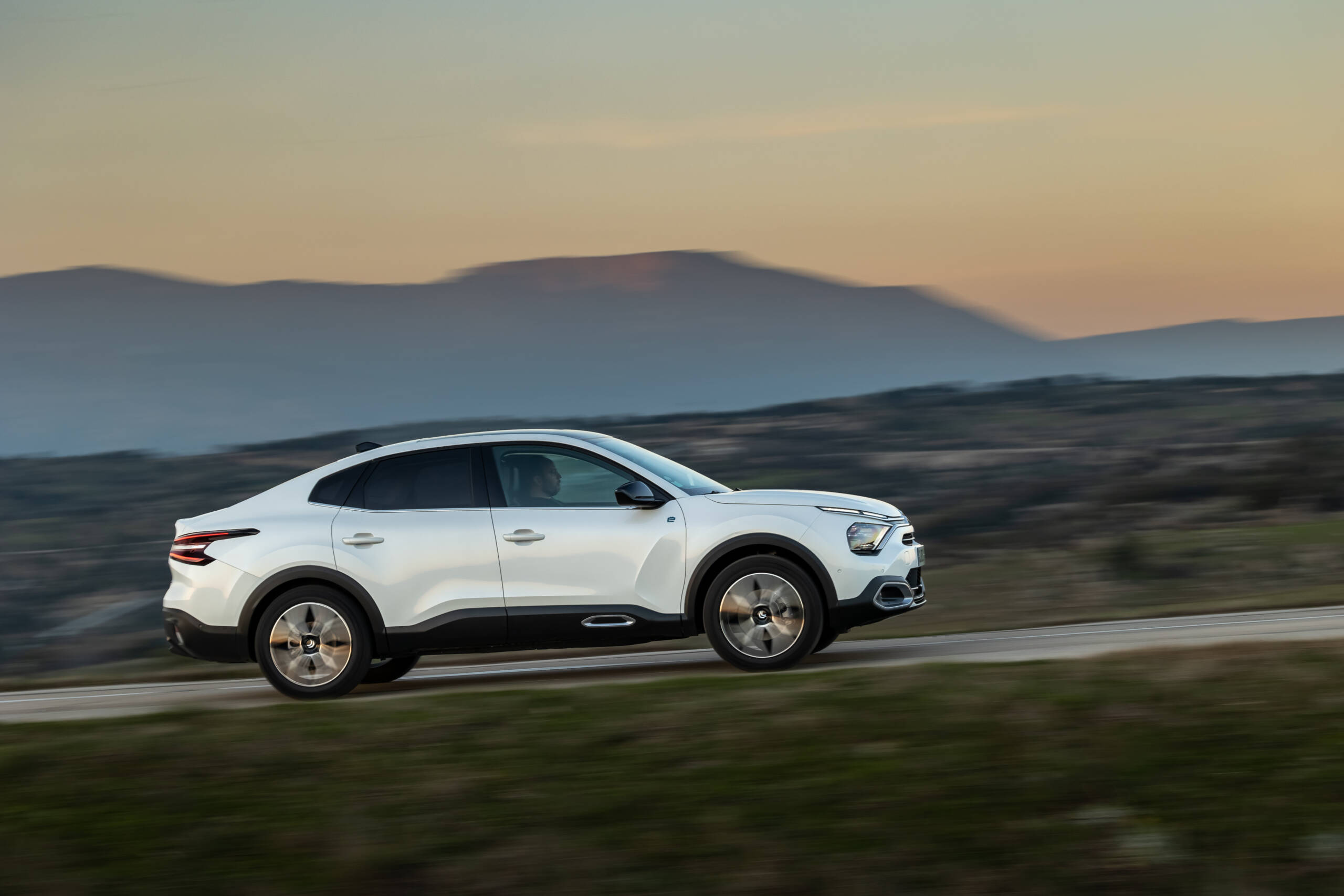 Each offering a strong personality, an unparalleled on-board experience and a range of efficient electric motors and thermal powertrains, C4 and C4 X put forward a highly competitive core market offering. This attractiveness is reflected in the number of orders and registrations. In Europe, ë-C4 is ranked 5th in the compact electric saloon segment and the petrol C4 is 3rd in its category.
A NEW ELECTRIC MOTOR OPTION WITH A FOCUS ON EFFICIENCY
Ë-C4 and ë-C4 X offer a new electric motor with extended range, enabling it to exceed the symbolic value of 400 km (in the combined WLTP cycle). The motor and battery of this new electric drive train have been designed to be more efficient and benefit from major technological developments.
The motor: a 115 kW or 156 hp hybrid synchronous electric motor (HSM), which has replaced the permanent magnet synchronous electric motor. It produces an additional 15 kW (20 hp), while maintaining a high level of efficiency. This motor is capable of developing 260 Nm of torque that is instantly available, providing immediate responsiveness and driving pleasure.
The battery: a new 54 kWh battery, 4 kWh more than the current electric offer. Compact and with liquid thermal regulation and a heat pump as standard for fast charging, it has different chemistry and comprises 102 cells and 17 modules. Instead of 60% nickel, 20% manganese and 20% cobalt, this high-voltage Lithium-Ion battery has a higher nickel ratio (80% nickel, 10% manganese and 10% cobalt), resulting in improved energy density and longer battery life.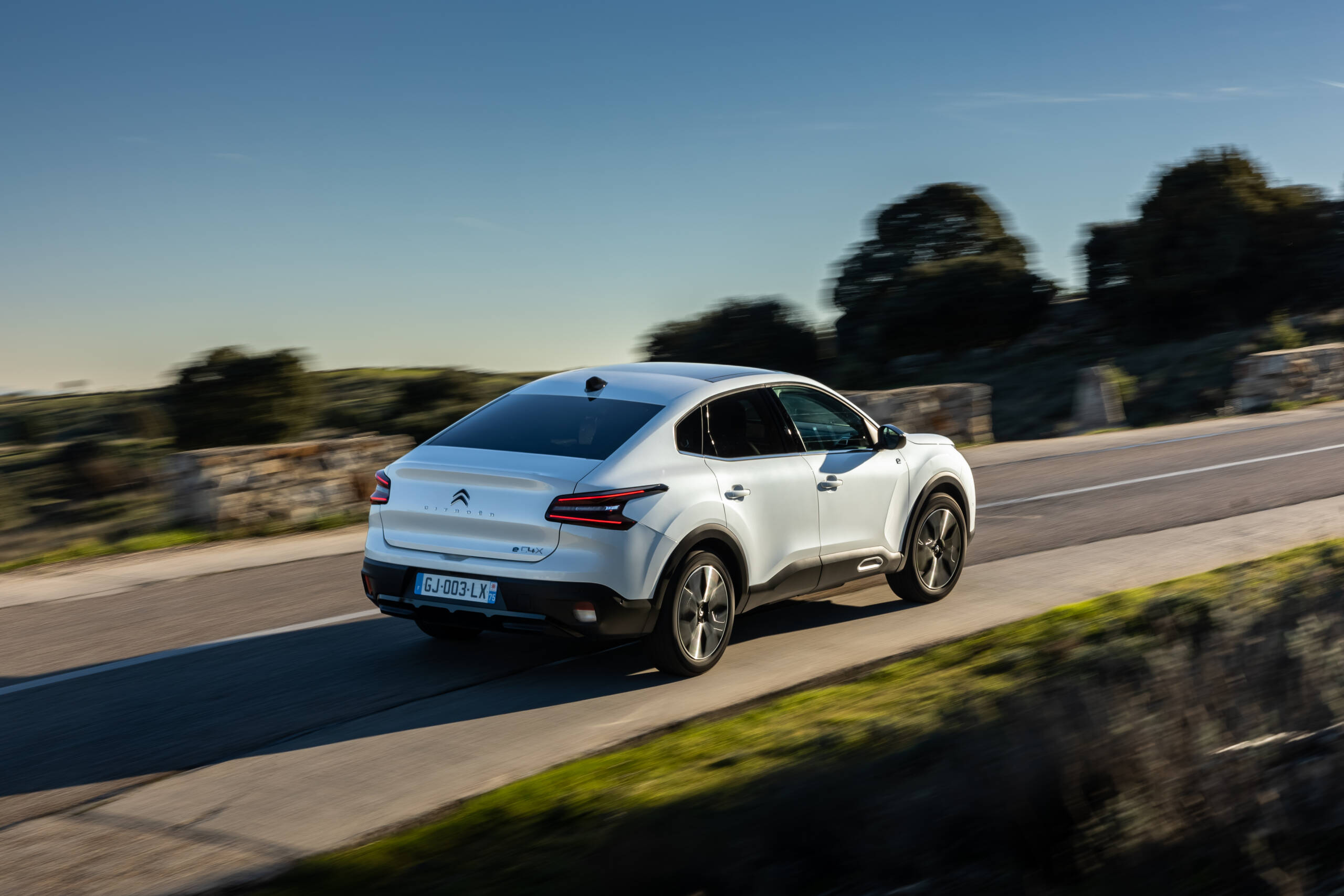 All of these levers benefit operating range, which is increased by 17% compared to the existing electric offer and is increased further up to 420 km (according to the combined WLTP cycle), and the energy efficiency, which reduces the average energy consumption to 12 kW/h. In addition to the increase in operating range, there are significant benefits in real-life customer use, which translate to +30 km in urban traffic conditions even at temperatures close to 0°C.