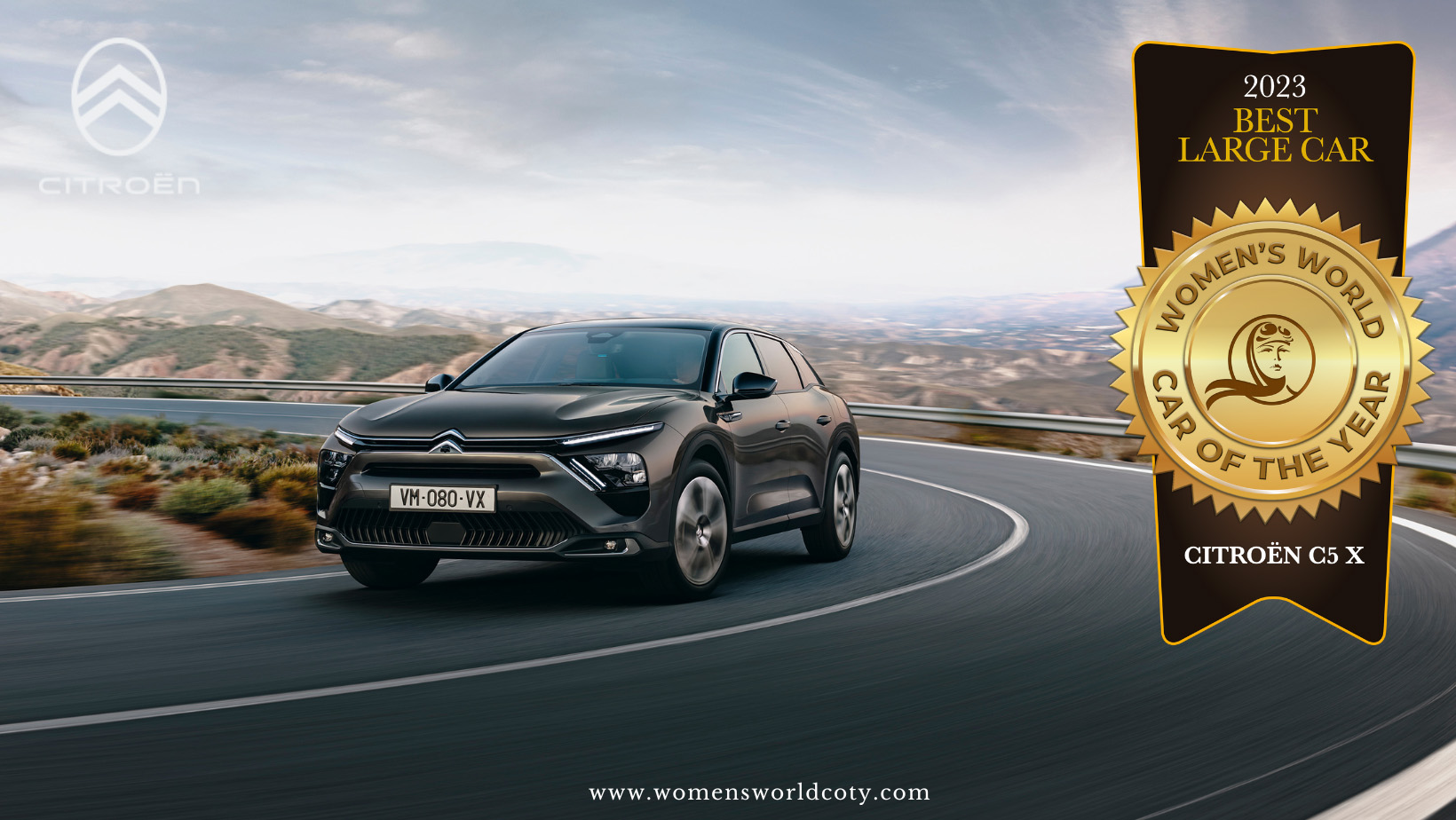 CITROËN C5 X WINS THE "BEST LARGE CAR" AWARD IN THE 13th EDITION OF THE WWCOTY – WOMEN'S WORLD CAR OF THE YEAR
The C5 X is fully involved in the acceleration of the Brand's electrification with a 60% Plug-in Hybrid mix. This mix will surely increase with the arrival in the coming weeks of a more accessible hybrid offering: the 180 ë-EAT8 Plug-in Hybrid.
CITROËN C5 X WINS THE "BEST LARGE CAR" AWARD IN THE 13th EDITION OF THE WWCOTY – WOMEN'S WORLD CAR OF THE YEAR
The Citroën C5 X has been awarded the 'best large car' prize by WWCOTY (Women's World Car of the Year). This jury was created in 2009 by Sandy Myhre to allow women in the automotive world to express their vision of the models coming onto the market.  Women often have a role in car buying when they are not decision-makers on their own. They have a distinctive view on the strengths and weaknesses of a car. An all-female jury of 63 automotive journalists from 45 countries on five continents has the tough task of selecting the best cars in six categories (large car, performance car, urban car, large SUV, 4X4 and family SUV).
The winning vehicles represent excellence in their category in terms of safety, driving, comfort, technology, design, efficiency, environmental impact and value for money. The Citroën C5 X won the "Best large car" category and will now compete against the other five winners in the final round to determine the overall winner of the WWCOTY's top award. The winner will be announced on 8 March, International Women's Day.
Introduced in 2021, the C5 X is a flagship model representing Citroën's unique expertise. Worldwide, more than 45,000 deliveries have already been made in just one year. In Europe, in the second half of the year, it is the leader of the D-segment mainstream sedan ranking. C5 X combines the elegance and dynamism of a saloon, the versatility and volume of an estate car with the stance and driving position of an SUV. All this while ensuring unrivalled comfort thanks to Citroën Advanced Comfort seats and Citroën Advanced Comfort Active suspension.
C5 X is a true invitation to travel in complete serenity. It offers cutting edge technologies to simplify life on board, including the Extended Head Up Display screen, or a brand new MyCitroën Drive Plus information system with natural speech recognition and a 12″ touch screen. C5 X is also perfectly integrated in Citroën's energy transition by offering a rechargeable Hybrid version 180 ë-EAT8 that complements the rechargeable Hybrid 225 ë-EAT8 which already produces 60% of the C5 X mix.