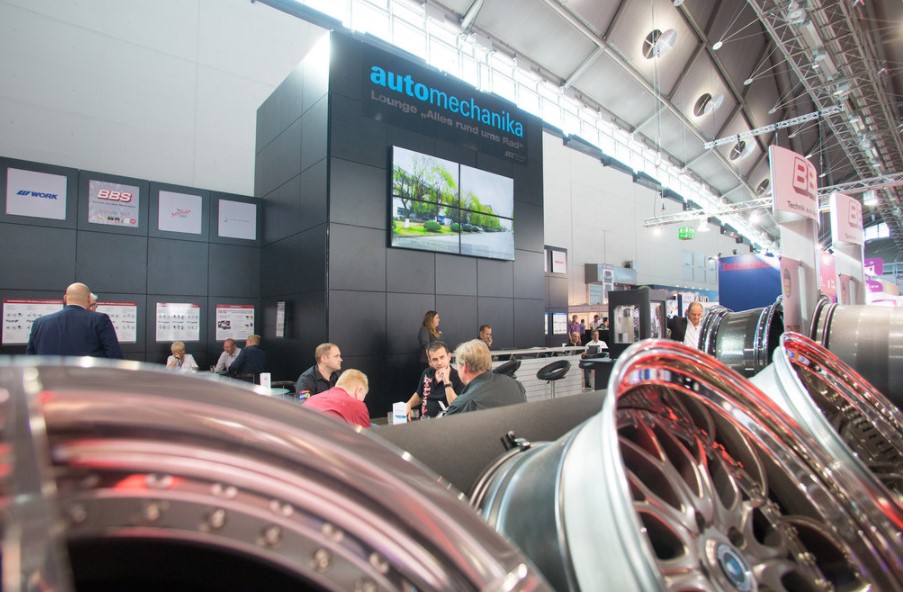 Automechanika Frankfurt celebrates its 25th anniversary next year
In addition to such perennial favourites as its training programmes and networking events, next year's visitors will be able to look forward to many new highlights. For example, the trade fair organiser will be issuing a special publication for the 25th anniversary of Automechanika Frankfurt showcasing the history of the event from the time it was founded, a look back that includes the first Automechanika abroad and the event's road to becoming a leading global trade fair brand.
A number of themes will be making their Frankfurt debut, including new themes such as the business of classic cars of all ages, and REIFEN, the established flagship fair for tyres that is familiar from Essen, and which will be taking place in Frankfurt for the first time in 2018 alongside Automechanika Frankfurt. Both of these themes will be located in the new Hall 12. Currently under construction, the new exhibition hall will enter operation right on time for the event's 25th anniversary. The new themes offer visitors from industry, workshops and retail opportunities to tap into new markets and expand their target groups. Olaf Mußhoff, Director of Automechanika Frankfurt: "One of the most important factors behind the success of Automechanika Frankfurt is the close collaboration and coordination with partners in industry and associations. This allows us to optimise our response to the needs of the industry while continuing to develop our trade fair. With new themes such as classic cars and REIFEN, we offer our visitors the opportunity to enter profitable business fields that suit their companies' capabilities, as well as to meet the right companies in person."
The importance of Automechanika Frankfurt as an industry meeting place is underscored by the stand registrations that have been received to date. Even though the event is about a year away, more than 2,400 companies have already announced that they will be taking part in Automechanika Frankfurt 2018 – approx. eight percent more than at the same point two years ago. The quality of the exhibitors continues to be excellent, and visitors can look forward to a large and wide-ranging spectrum that offers them an overview of the global market unlike any other worldwide. Among those who have already signed on are numerous high-profile suppliers and manufacturers from the fields of equipment, parts, accessories, management and services, including the Al Dobowi Group, Bilstein Group, Bosch, Continental, Christ, Hella, Istobal, MAHA, Schaeffler, Snap-on, Thule and ZF, to name but a few.
There will be additional highlights for visitors in the Frankfurt Festhalle, where everything will revolve around tomorrow's mobility, alternative drive systems and autonomous driving, as well as the Workshop of the Future. Outstandingly innovative products and solutions will be honoured with the coveted Automechanika Innovation Award and showcased in a special exhibition. To mark the 25th anniversary of Automechanika Frankfurt, the event will also be looking back at the industry's record of innovation over the decades.
Basic and advanced training will once again be a key theme in 2018, and we will be working with highly regarded partners to offer free certified workshops, training and expert presentations that are primarily aimed at the employees and owners of workshops. At the trade fair, up-and-coming talents will have the chance to find out about professional opportunities, talk directly with potential employers and network with the industry's decision-makers.