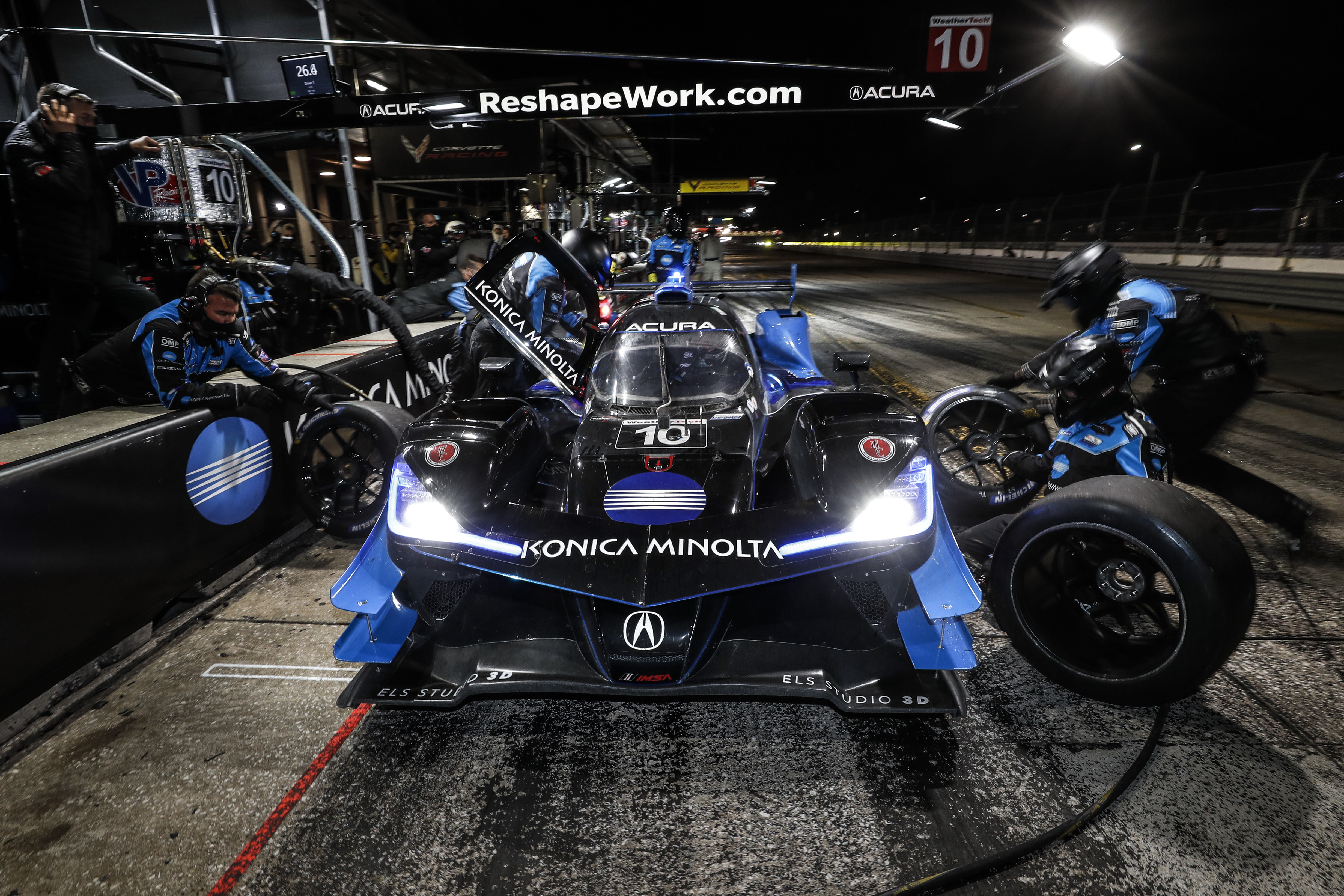 In a typically fraught and hard-fought Mobil 1 Twelve Hours of Sebring, it was the Meyer Shank Racing trio of Dane Cameron, Olivier Pla and Juan Pablo Montoya leading the way for Acura at Sebring International Raceway, finishing third in their AutoNation/SiriusXM Acura ARX-05.
Today's race was marked by multiple incidents and a trio of heavy crashes, but all without serious driver injury.  When the green flag waved for the final restart with just under 30 minutes remaining, Cameron powered his Acura past the similar ARX-05 of Wayne Taylor Racing to claim third place and the first podium result for Meyer Shank Racing since the team returned to prototype competition after back-to-back GTD championships for Acura in 2019-20.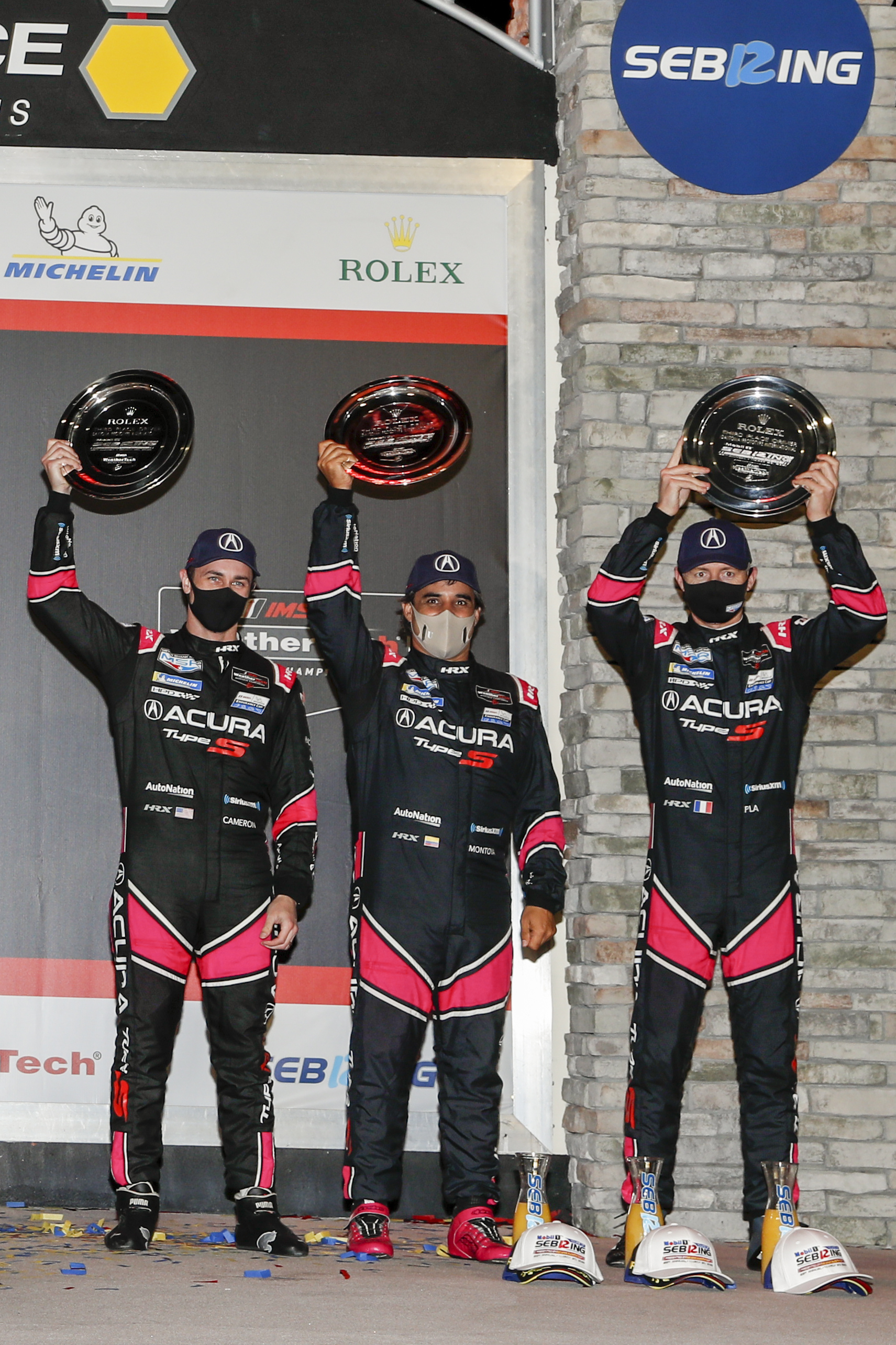 Earlier in the day, Wayne Taylor Racing appeared to be in contention for a second consecutive 2021 victory, but the season-opening Rolex 24 race winners Sebring hopes were dashed – four hours into the 12-hour contest – by contact with a GTD car, resulting in damage and a loss of coolant in the right-side intercooler of the ARX-05.  The driver lineup of Filipe Albuquerque, Ricky Taylor and Alexander Rossi persevered despite the resulting loss of power, and their fourth place finish keeps them in the thick of the DPi championship battle.
Acura NSX GT3 Evo
In the production-based GTD division, the Magnus with Archangel's NSX GT3 Evo driven by Andy Lally, John Potter and Spencer Pumpelly had a steady run through the first seven hours, then picked up pace as the circuit cooled in the later afternoon and into the night, beginning a long battle with the Porsche of Team Hardpoint-EBM for a possible podium result.  In the final minutes, while fighting for third place, Katherine Legge in the Porsche made contact with Lally's Acura, sending the NSX briefly off track and resulting in a fourth-place finish.  Legge would finish fifth after being penalized for the contact.
Acura Rolex 24 Results
3rd overall – #60 Meyer Shank Racing Acura ARX-05 DPi
Drivers Dane Cameron, Olivier Pla, Juan Pablo Montoya
4th overall – #10 Wayne Taylor Racing Acura ARX-05 DPi
Drivers Ricky Taylor, Filipe Albuquerque, Alexander Rossi
4th GTD –  Magnus with Archangel Acura NSX GT3 Evo
Drivers Andy Lally, John Potter, Spencer Pumpelly
DPi Manufacturers' Championship (unofficial, after 2 of 10 rounds)
1. Cadillac       740
2. Acura          712
3. Mazda         682
Acura Rolex 24 Fast Facts
Acura Motorsports and its performance arm, Honda Performance Development, have recorded a total of eight victories at the 12 Hours of Sebring, including three class wins for Acura, four LMP2 class wins under the HPD umbrella, and an overall win in 2016.
Tonight's third-place result was the second consecutive podium finish for Acura at Sebring.  Acura and drivers Taylor and Helio Castroneves secured the 2021 IMSA DPi championship here last November when, due to schedule changes as a result of the COVID pandemic, the Twelve Hours of Sebring served as the season finale.
Acura first entered IMSA competition in 1991, shortly after the company's founding in 1986, and the 1991 Daytona race was the first major event for the company. Comptech Racing and drivers Parker Johnstone, Steve Cameron [uncle of current Acura racer Dane Cameron] and Bob Lesnett, driving a Spice Acura SE90P, claimed the victory that year in a class that compares to today's LMP2 division.