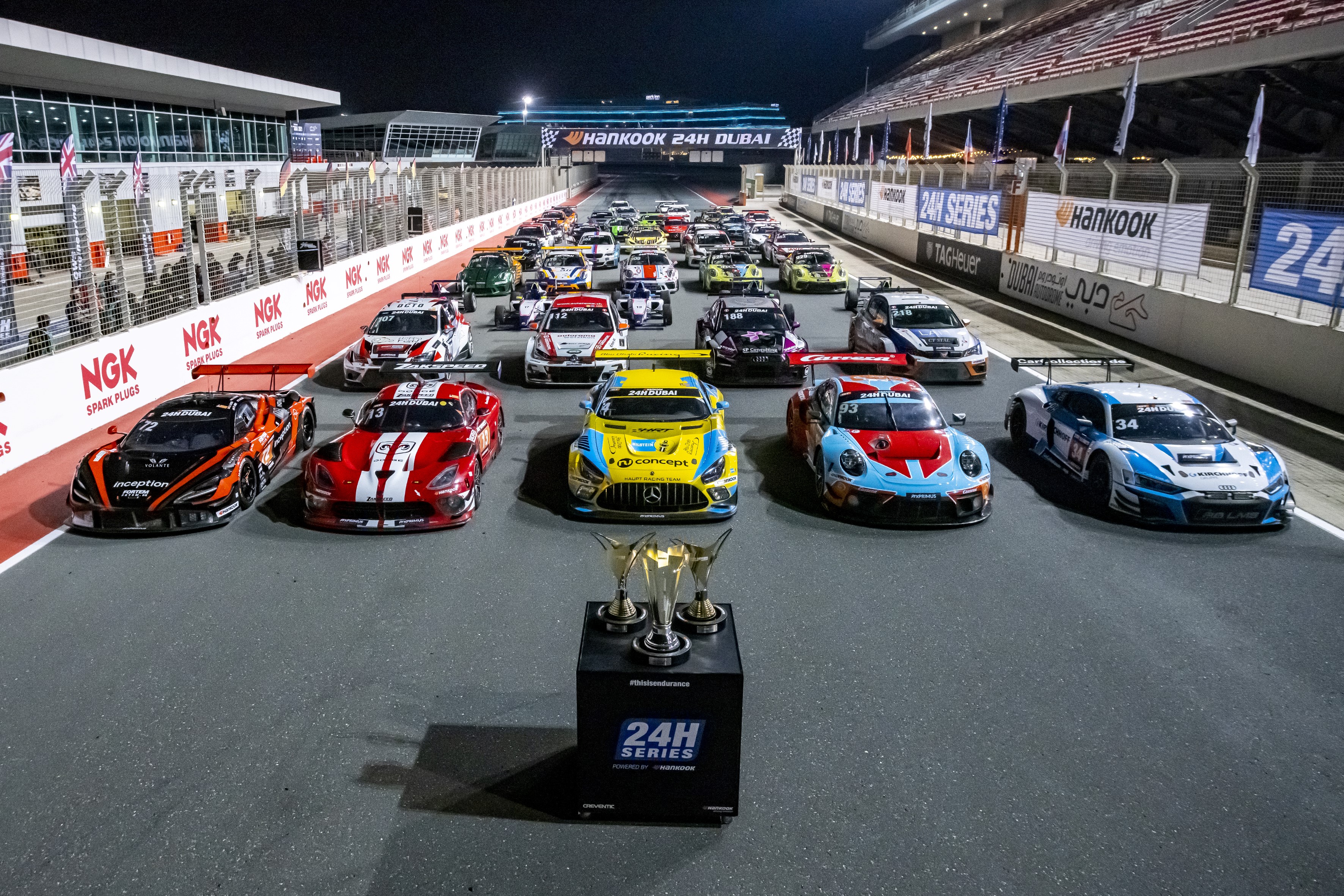 As is tradition, this season's 24H Series powered by Hankook gets underway this weekend with the 24-hour classic in Dubai, which also forms the opening event of the 2021 international endurance racing season.
As in previous years, the 16th edition of the endurance classic in the United Arab Emirates has proven to be a major logistical challenge for Hankook. Thousands of race tyres were loaded onto container ships and shipped to the port of Dubai, from where they were taken by truck to the racetrack in the Dubai Motorcity district. Manfred Sandbichler, Hankook Motorsport Director Europe: "Planning has to be perfect for overseas races like the one in Dubai, because you cannot correct anything later. In Europe, where the tyres are transported straight from the warehouse by truck, you have greater flexibility."
The Ventus Race has been produced in various different sizes to fit all the models of car in the 24H Series. 30 mechanics work in the Hankook garages at Dubai Autodrome to fit the tyres onto the rims of the GT and TCR cars. "Safety takes top priority for us. The drivers must be able to rely on the Hankook race tyres in any conditions. We also place great importance on providing all the starters with the same consistently high quality with every set of tyres."
The Hankook engineers record the tyre temperature, air pressure and camber. They analyse this data and support the race teams on-site with their accumulated knowledge. However, even the Hankook experts were powerless last January, when heavy rain caused the season-opener in Dubai to be suspended after seven hours. "We had torrential rain, I have never seen anything like it in the desert. The drivers did all they could on the Hankook wet tyre, but the pit lane and the start/finish straight were completely under water. You would have needed a boat, both at the circuit and in the city. Unfortunately, that is not something Hankook produces yet," said Manfred Sandbichler.
The opening race in Dubai is followed by a further seven events in the 24H Series powered by Hankook. This season's schedule for the renowned international endurance series comprises four 12-hour and four 24-hour races, which are held in seven countries on three continents. The calendar features iconic racetracks like Mugello and Portimão, which hosted Formula 1 races for the first time last year, as well as circuits that have hosted the pinnacle of motor racing for many years: Spa-Francorchamps, Barcelona and Hockenheim. It also includes the Coppa Florio race in Sicily.
Manfred Sandbichler: "The organiser, Creventic, has once again put together a great season, which reaches a worthy conclusion with the 24-hour race in Sebring in November. However, we are focussing on the opening round in Dubai, where we will provide all the teams and competitors with best support possible, courtesy of the usual high quality of our Hankook race tyre and a perfect service at the circuit. The trustful partnership with Creventic, which goes beyond pure business, plays an important role. We are able to manage many things quickly and amicably – something that is worth its weight in gold at major motorsport events."